Dave is a policy analyst, political analyst, speaker, and journalist published in Human Events, World Net Daily, the American Conservative Union, Eagle Forum, Heartland Foundation, and college textbooks. He graduated Knox College in 1974.  Dave has been involved in socioeconomic policy and law at the federal and state levels for 24 years.  He previously served on the Boards of RADAR and the American Coalition for Fathers and Children.
Dave spent many years independently studying law, social policy, management science, psychology, sociology, and culture.  He has been cited in peer-reviewed scientific journal studies and been a keynote speaker for Phi Beta Kappa and Sigma Pi Sigma honors inductions.  He has been a guest on many radio shows across America, and published in Human Events, World Net Daily, News With Views, the Tea Party Tribune, Renew America, and many other online publications.  He has been cited in books and peer-reviewed scientific journals.
Dave's expertise is analyzing highly complex problems and establishing innovative answers that meet everyone's needs.   The "10 Marriage Values" socioeconomic policy framework is the culmination of many years of study and analysis.   Traditional social policy fails attempting to remediate consequences downstream of their causes.  Funding the consequences stimulates more problems now driving  means-tested demand spending in excess of $1-trillion annually.
Our hierarchical framework positively addresses problems at the source, while naturally rebuilding a necessary socioeconomic foundation of marriage as the social norm.   This approach deflates a long list of very costly social, economic, and human problems, deflating demand for social expenditures, without having slash budgets in the face of an angry public.   Our policies open the door to bipartisan answers heretofore impossible, and will shrink the "marriage-gap" vote that defined elections for the past 14 years.
Restoration of marriage as the social norm will result in a growing tax base, reduce the numbers of individuals needing government assistance, and bring about balanced budgets we have not been able to achieve for decades.  Major urban centers will become attractive places for employers to locate.  Lower taxes coupled with lower crime rates and a more stable work-force will encourage repatriation of jobs from overseas.  The policies address the concerns of many special-interest groups simultaneously.  This will end the era of unproductive special-interest politics, and shift the focus towards achieving common goals benefiting everyone.
In his professional career, Dave administers a corporate IT system he invented for a major telecommunications provider and is a patented inventor and pioneer in the now-established field of coherent fluidics.
_____________________________________________________________________

Cynthia Davis – Executive Director
Cynthia Davis served in the Missouri House of Representatives for eight years, was the Chairman of the Children and Families Committee and the Chairman of the Interim Committee on Poverty.  Her main accomplishments were tied to promoting legislation to facilitate positive public policy concerning children and families in Missouri.  As a wife of 30 years and a mother of seven, Cynthia has much direct experience in the area of family values and public policy.  She spends much of her time writing and speaking on these issues.
_____________________________________________________________________
Michael J. McManus — Vice President, Rebuilding Marriage Culture
Michael and Harriet McManus co-founded Marriage Savers to push down divorce and cohabitation rates and raise marriage rates.  Their key strategy is for local clergy to adopt a Community Marriage Policy, a signed covenant by scores of churches across denominational lines, to take specific steps at five stages of marriage to better prepare couples for a lifelong marriage, enrich existing ones, save troubled marriages, help the separated to reconcile and stepfamilies to be successful. . Marriage Savers also trains clergy and Mentor Couples in participating churches to achieve the goals. More than 10,000 pastors and priests signed CMPs. An independent study by the Institute for Research an Evaluation of the first 114 CMPs reported that on average, county divorce rates fell 17.5% over 7 years. Seven cities such as Austin, Kansas City, KS, Modesto, CA, and El Paso slashed divorce rates in half.  From 1990-2000 cohabitation fell one-third lower in CMP counties than in control similar counties.
Mike and Harriet co-authored Living Together: Myths, Risks & Answers, "In this ground-breaking book, Mike and Harriet McManus dispel the myth that living together before marriage leads to `happily ever after' and give the secrets for making marriages succeed," write David and Claudia Arp, authors of "10 Great Dates."  Mike McManus published a second book in 2008: How to Cut America's Divorce Rate in Half: A Strategy Every State Should Adopt.  Mike Huckabee wrote the Foreword and 13 legal and religious experts wrote Endorsements for his suggestion on how to reform No Fault Divorce, which grants every even though divorce is opposed by the other spouse in four out of five cases. "Mike McManus puts his finger on a simple but profound answer: require that in cases involving children that both parents would have to agree to a divorce, except in cases of adultery or physical abuse. I believe this change in the law could cut the divorce rate in half.  That would spare 500,000 children from seeing their parents divorce each year, and save $50 – $100 billion in taxpayer funds," wrote Rev. Richard Cizik, then Vice President of the National Association of Evangelicals. Mike's first book was Marriage Savers: How To Help Your Family and Friends Avoid Divorce (1993, 1995), and two collections of his columns have been published: 50 Practical Ways To Take Our Kids Back from the World and Insuring Marriage: 25 Proven Ways To Prevent Divorce.
_____________________________________________________________________
Suzanne Venker — Vice President, Women's Outreach
Suzanne may be a writer and social critic, but above all, she is a dedicated family woman.
Her roles as wife and mother make up the core of her existence—shaping her attitudes, beliefs, and several of her books. Women, according to Venker, are happiest and most satisfied when they reject the feminist creed and embrace their femininity.
Suzanne is the author of four books, including How to Choose a Husband (And Make Peace With Marriage) (February 2013), The War on Men (February 2013, eBook only), The Flipside of Feminism (2011), and 7 Myths of Working Mothers (2004).
Suzanne has written extensively about politics, parenting, and the influence of feminism on American society, serving as a frequent contributor to FoxNews.com and The Huffington Post. Her writing has also been published in the New York Post, St. Louis Post-Dispatch, Parents.com, Human Events, WND, and CNSnews.com. Additionally, Suzanne has appeared on ABC, CNN, FOX, and C-Span—as well as hundreds of radio shows throughout the country.
This Midwest-born, East Coast-educated writer is no stranger to controversy. Her first book, 7 Myths of Working Mothers, argues that young children and demanding careers are incompatible. The Flipside of Feminism, released in 2011, is an explosive account of the damage left in the wake of the feminist movement. Her eBook original, The War on Men, is a concise, authoritative look at the myth of gender equality. And her latest release, How to Choose a Husband (And Make Peace with Marriage), takes a hard look at the sexual revolution and encourages women to reject the cultural script they've been sold about love, sex, men, and marriage.
Suzanne lives in St. Louis, MO, with her husband and their two children.
_____________________________________________________________________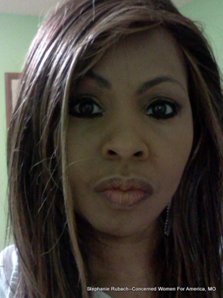 Stephanie Rubach – Vice President, Social Policy

Stephanie Rubach, RN serves as the St. Louis District Coordinator for Concerned Women for America, the nation's largest women's public policy organization. She assists in monitoring public policy action on state and local levels, from tracking legislation, writing alerts and press releases, to working with pro-family groups and lobbying elected officials at various levels.
Stephanie is a founding member of move-on-up.org a social network of conservatives African Americans where she connects with others and works towards building positive, life affirming outcomes in the Black community and our nation at large.
Stephanie serves on the Board of Directors for the '13th Amendment Freedom Week Movement' which is designed to promote the freedom philosophy in all its dimensions, including individual freedom, political freedom and religious freedom.
Stephanie speaks regularly at Tea Party events on the subject of pro-family African-American activism. She shares her story and addresses critics of the Tea Party that claim we are without diversity.
In addition to these endeavors Stephanie teaches Advanced Cardiac Life Support to other health care professionals, and is a certified aerobics instructor.
Stephanie is the mother of 3 adopted children, Kenny, Brian and Carlie, and received the 2010 Congressional Angel in Adoption™ award.
_____________________________________________________________________